If you are looking to buy the best noise cancelling headphones then you have come to the right place as we are about to deep dive into the best noise cancelling headphones on the market in New Zealand.

Noise-cancelling headphones are headphones that reduce unwanted ambient sounds using active noise control. This is distinct from passive headphones which, if they reduce ambient sounds at all, use techniques such as soundproofing. Noise cancellation makes it possible to listen to audio content without raising the volume excessively. It can also help a passenger sleep in a noisy vehicle such as an airliner.

So let's start with the top rated noise cancelling headphones.
Bose Noise Cancelling Headphones 700


Keep your phone in your pocket and your head up to the world with easy access to voice control services for music, navigation, weather, and more
Turn any space into a workplace with powerful noise cancelling; astonishing sound and unrivalled voice pickup
Personalize your environment with 11 levels of noise cancelling; control distractions or let ambient sound in.Bluetooth version: 5.0 (including all headphone profiles)
Get up to 20 hours of wireless battery life and time based power information
Ensure that both your Bose Headphones 700 and Bose Music App are running the latest software

Sennheiser MOMENTUM True Wireless 2 Noise Cancelling Headphones

Enjoy unrivalled high end stereo sound created by Sennheiser unique 7mm dynamic earbud audio drivers
Switch off your surroundings and focus on the deep bass the natural mids and the clear treble thanks to active noise cancellation providing you with high fidelity sound even in noisy environments
Experience uninterrupted play time with the new 7 hour battery life that can be extended up to 28 hours with the charging case for your wireless headphones
In the mood for a movie marathon; With its ergonomic and lightweight design you can experience unbeatable sound in unbelievable comfort when lounging in front of the TV or while stroling through the city
Control your exceptional sound with customisable touchpad technology built into both earbuds handsfree via voice control or with your smart devices

Sony WHH910N h.Ear on 3 Wireless Noise Cancelling Headphones

Dual Noise Canceling Technology
High Quality Wireless Bluetooth 5.0
Battery Life up to 35 Hours
Slim Ear Pads and Silicone Headband
On-Ear Touch Sensors for Music and Calls
Compatible with Alexa, Google Assistant and Siri

Apple AirPods Max

Apple-designed dynamic driver provides high-fidelity audio
Active Noise Cancellation blocks outside noise, so you can immerse yourself in music
Transparency mode for hearing and interacting with the world around you
Spatial audio with dynamic head tracking provides cinema-like sound that surrounds you
Computational audio combines custom-engineered acoustic design with the Apple H1 chip and software for breakthrough listening experiences
Designed with a knitted mesh canopy and memory foam ear cushions for an exceptional fit
Magical experience with effortless setup, on-head detection and seamless switching between devices

Master & Dynamic MW65 Active-Noise-Cancelling Wireless Over-Ear Headphones


Custom 40mm beryllium drivers
2 ANC modes for clear, expansive sound in any environment
Dual microphones
Bluetooth connectivity
Up to 24 hours of battery life

Bowers & Wilkins PX Active Noise Cancelling Wireless Headphones


Frequency response – 20-20KHz
ADAPTIVE NOISE CANCELLATION – Perfect sound anywhere – on a plane, in the street or in the office. The best adaptive noise cancelling headphones, customizable to your exact preference.
FEEL MORE OF YOUR MUSIC – Built with the same drive units from our P9 Signature headphones, the PX provides optimized listening performance. We have also subtly angled the drivers to provide a more natural stereo perspective.
PX RESPONDS TO YOU – When you need to pause, lift an ear cup. Put PX down and it goes to sleep. Pick it up to resume playing. Worry less about your headphones and enjoy your music more.
SMART POWER -Battery type -850mAh-Lithium Polymer. Battery life- Upto 22 hours BT/ANC, Upto 29 hours BT/no ANC, Upto 33 hours ANC/wired, Upto 50 hours wired/no ANC. PX is always ready; put it down and it goes into power-saving sleep mode; pick it up and you're good to go. PX is the smartest Bluetooth headphone on the market.
TO GET THE BEST FROM PX, install the latest version of the firmware. This is done via the dedicated Bowers & Wilkins Headphones app, downloadable for free from the AppStore or Google Play Store.
Frequency response – 10Hz to 20kHz and Impedance – 22 ohms (passive)

SHURE SBH2350-WH AONIC 50 Wireless Noise Cancelling Headphones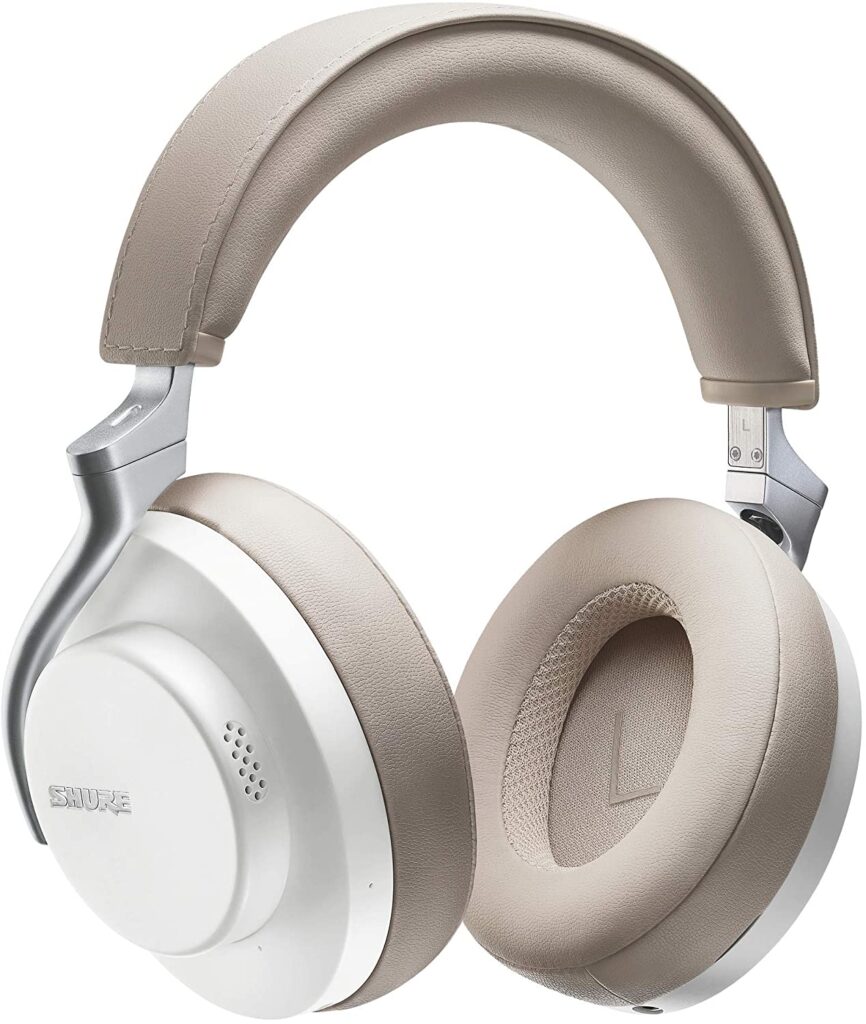 PREMIUM WIRELESS STUDIO-QUALITY SOUND: Engineered from decades of professional experience. No cords. No wires. Just pure listening anywhere you go.
ADJUSTABLE NOISE CANCELLING & ENVIRONMENT MODE: Eliminate distractions for a truly immersive listening experience and hear the outside world with the flip of a switch.
BLUETOOTH 5 WIRELESS TECHNOLOGY: Enhanced stability and a range of up to 30 feet (10 meters). Pairs to phones, tablets and laptops.
UP TO 20 HOURS BATTERY LIFE: Uninterrupted audio wherever you go – on the train, on an airplane, at work or at home.
LONG-WEARING COMFORT & DURABILITY: Built to withstand the rigors of the road. Folds flat for portability with protective carrying case.

Jabra Elite 85h Over-Ear Headphones

Audio automatically adapts to your surroundings: SmartSound analyses your sound environment and applies your personalised audio – Active noise cancellation and our HearThrough feature give you the sound you need
Extra-long battery life: With up to 41 hours of battery time and fast charging, the Elite 85h earphones let you take calls and play music while staying wirelessly connected
Unmatched call quality and durability: 8 microphones greatly enhance call quality, blocking out more wind noise and background distractions – Certified rain-resistant and dustproof
On-ear detection and voice assistant enabled: Headphones recognise when you remove them from your ears, auto-playing and pausing audio – One-touch connection to your digital assistant of choice
Scope of delivery: Jabra Elite 85h headphones, carry case, USB-C charging cable, audio cable – Weight: 296g – Colour: Copper black

Wrap it up
There you have our top picks for the best noise cancelling headphones on the market in NZ