Enjoy barista-quality coffee at home with our hand-picked best coffee machine list.

Life is too short for bad coffee and with take away coffee prices increasing, now is the time to save the environment and your wallet with quality coffee at home with your very own coffee machine.
Espresso machines are what baristas use at cafes & restaurants, although there's now a whole market dedicated to providing people with smaller espresso machines to use at home.
Whether you're after an automatic, manual espresso machine or a drip coffee machine, and no matter your budget, you're sure to find the best coffee machine for you on our list.


Nescafe Dolce Gusto Piccolo XS Capsule Coffee Machine
Whether you can't get to your favourite cafe, or you're just trying to save money, a home coffee machine is key. If you don't have the bench space to spare for a hulking great machine, the Dolce Gusto Piccolo XS is your new bestie. With an ultra-slim footprint, it's one of the smallest coffee machines on the market – perfect for fitting in any kitchen. What it lacks in size it makes up for in power; with a 15 bar high-pressure system, you'll get a golden crema every time. Sip on quality espresso with this capsule machine from the comfort of your own home. 
Breville Barista Express Espresso Machine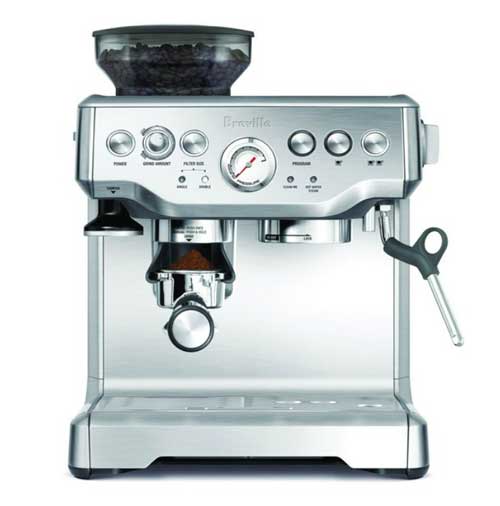 A Barista will quickly tell you that the most important ingredient to deliver an amazing espresso is to use fresh beans and to grind them as close to the time of use as possible. Actually, it's best to limit the time between grinding and extraction to seconds, not minutes. That's why we've built a grinder into the Barista Express espresso machine. 
Segafredo Zanetti Gaggia Classic Pro
Same style, size, ring, and way of working as a professional machine, thus the perfect driver of great in cup quality. The heavy chromed brass group and filter holder ensure a consistent and stable temperature throughout the entire brewing process.
DéLonghi Magnifica S Plus Automatic Coffee Machine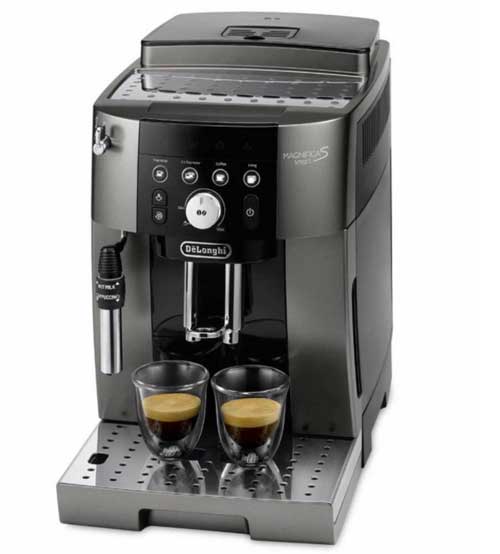 Personalised and easy to use, the Magnifica S Smart is the ideal addition to any kitchen that values coffee and aesthetics. Featuring integrated grinding technology, a soft touch button interface, and a glossy painted body, this coffee machine is not only stylish, but it is also practical.  
Breville the Oracle
The Oracle® is the world's first automatic manual espresso machine that brings true cafe quality to your home without the barista. The Oracle® has automatic grinding, dosing, tamping and milk texturing, automating the most difficult parts of manual espresso.
Hauffmann Davis Espresso Coffee Machine
Wake up to delicious coffee every morning with the Hauffmann Davis 1.5L Espresso Machine. Featuring a milk frother, 15 bar Italian ULKA pump and a large detachable water tank, this automatic espresso machine is a coffee connoisseur's must-have.
Your very own barista
Whether you want a single espresso or a fancy macchiato, this coffee machine makes it easy to brew delicious coffee right in your very own kitchen. It comes with two filter baskets and a coffee spoon/tamper for evenly extracted shots -plus it's equipped with a 15 bar Italian ULKA pump for the cafe-quality results every single time.
Best Coffee Machines On Sale Now
Wrap It Up
So with Black Friday sales just around the corner, now is the time to upgrade your at-home coffee with a new coffee machine that will make cafe-style coffee at home.

Remember to compare and save with Shopbot when you shop online in New Zealand