A soundbar is an all-in-one speaker system that delivers high-quality TV sound without requiring the space, complexity, and expense of a home theater receiver and surround sound speaker setup. A sound bar's long, slender unit contains two or more speakers and many provide either stereo or surround sound.
Since a soundbar is a dedicated speaker, it's a lot better at handling both ends of the volume spectrum. You're less likely to miss out on things like softly spoken dialogue and you're more likely to get the full breadth of the more dynamic sounds found in the latest movies.
With so many brands and models on the market, looking for the best soundbars can be a challenge.

We have reviewed all the current soundbars on the market in NZ and have complied our top-rated list to suit all room sizes and budgets.
Top Rated Soundbars New Zealand

Sonos Arc Soundbar
TEAC 2.1-Channel Soundbar
Samsung HW-Q600A 3.1.2 Ch Soundbar
JBL Bar 5.1ch 4K Soundbar
Sony HTG-700 3.1ch Atmos Soundbar
Sonos Arc Soundbar
Bring all your entertainment to life with the extraordinarily realistic sound of Sonos Arc, the premium smart soundbar for TV, movies, music, and more. Surround yourself in the story with 3D sound from Dolby Atmos, and enjoy control with your TV remote, your voice, the Sonos app, and Apple AirPlay 2.
TEAC 2.1-Channel Soundbar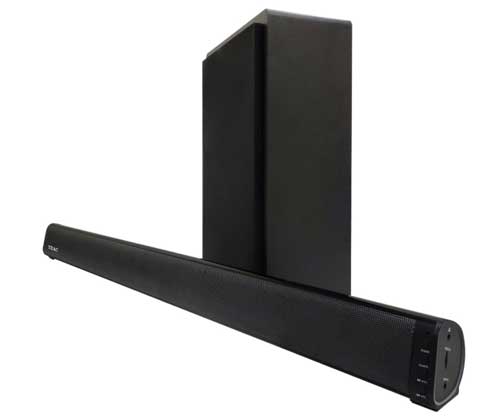 Get the most from your music with this 2.1-Channel Soundbar from TEAC. Sleek and stylish, this powerful speaker utilises Clear Sound Technology to deliver clearer highs and more natural mid-range sound! Plus, with a wireless subwoofer and XBass Technology for deep, punchy bass, this ultra-dynamic soundbar is the ultimate way to level-up your home audio setup!
Samsung HW-Q600A 3.1.2 Ch Soundbar
Experience cinematic sound in your lounge room. Be surrounded by the cinematic sound of True Dolby ATMOS & DTS:X audio content, made possible with overhead and directional sound for a realistic and immersive experience.
JBL Bar 5.1ch 4K Soundbar with Wireless Surround Speakers
The JBL Bar 5.1 transforms from a soundbar into a true wireless 5.1 home theater system for an epic movie and music-listening experience. The soundbar features two detachable battery-powered wireless surround speakers with 10-hours of playtime, 510W of total system power, a 10″ wireless subwoofer, three HDMI inputs to connect 4K devices, and Bluetooth. With Dolby Digital, Dolby Pro Logic II, and DTS, your movies, music and video games will never sound more incredible. The soundbar features JBL SoundShift, which allows you to instantly switch between the sound from your TV and the Bluetooth sound from your mobile phone or tablet. The soundbar is programmed to respond to your TV remote, so you can control everything with your existing TV remote control. The JBL Bar 5.1 redefines the soundbar experience.
Sony HTG-700 3.1ch Atmos Soundbar
This 3.1ch Dolby Atmos®/ DTS:X sound bar couples powerful, immersive surround sound with crystal clear dialogue – so you can lose yourself completely in your favourite TV and movies.
Are SoundBars Worth It?
Wrap It Up
Turn every room in your house into a cinema or a studio with surround and directional sound. Soundbars are perfect with any flat-screen TV as the built-in speakers are limited by the size of the TV.
Complete your home theatre setup and hear immersive sound whenever you watch your favourite movies and TV shows.
More recently, "surround sound" systems commonly provided as many as six or eight such channels, one of which was often referred to as a "dot one" channel to denote that it was only for the deep bass, not for a full-range signal. Hence "5.1" and "7.1" movie soundtracks where you have a sound all around you in the horizontal plane plus a dedicated channel for dynamic, deep bass. 
So if you are looking to upgrade your TV-watching, then buying a soundbar will upgrade your current sound and give you more rich tones without having the TV blasting on full volume.